Invitation to a seminar in Classical Martial Arts
The Kaizenkan Anniversary Seminar and dinner
March 11-12, 2023 in Åkersberga, North of Stockholm, Sweden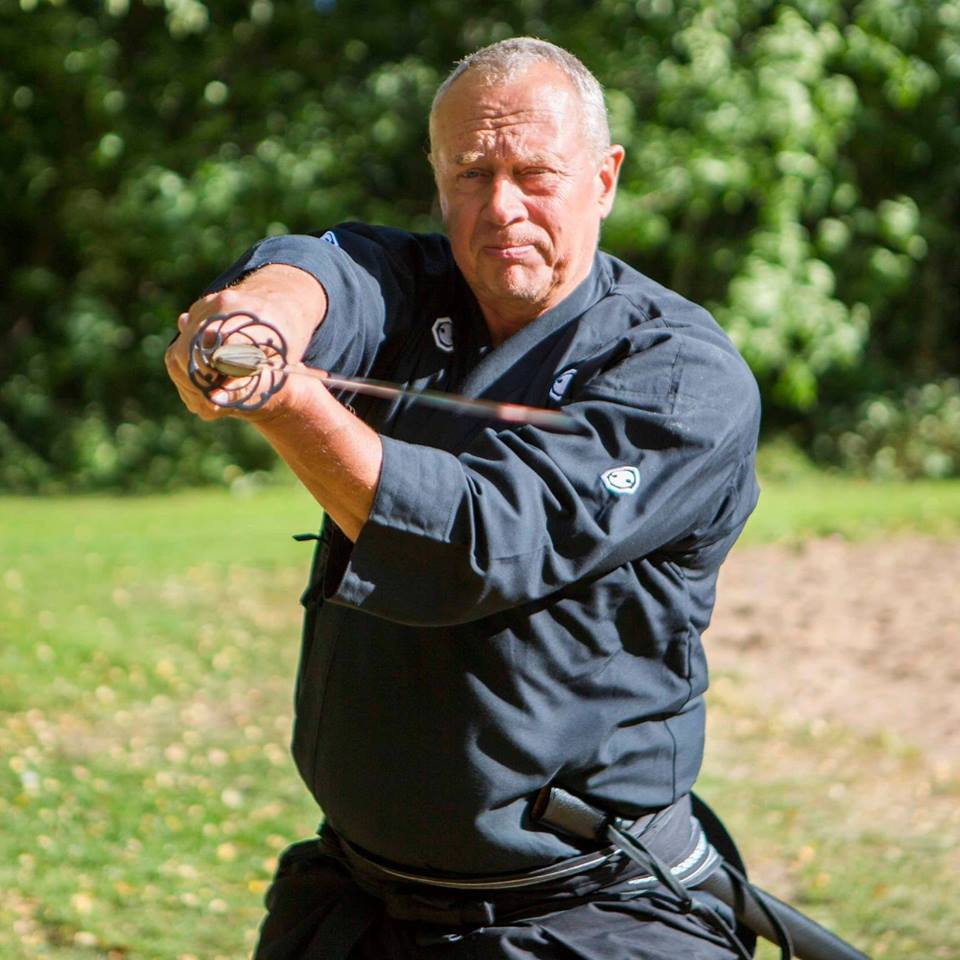 The Kaizenkan Anniversary Seminar is a celebration of Soke Leif Hermansson's 60 years on tatami and 70 years in life. The seminar offers an exclusive opportunity to train for some of the best and most famous martial arts masters in the world. The seminar gives beginners as well as advanced students a chance to develop knowledge, friendship, and to have fun! All students and instructors are also welcome to take part in the anniversary dinner on Saturday night.
What?
Two days of worldclass training in Okinawa karate and kobudo, jiujitsu, Mugairyu iaido & Hachimanryu battojutsu. There will also be a mat for training self defence and Kyujutsu. It is up to you what you want to train and with whom. You can spend all sessions with the same master or change from session to session to see what the other masters will teach you.
Main teaches: 
Soke Auvo Niiniketo, 10 dan jiujitsu, Finland
Soke Rainer Grytt, 10 dan jiujitsu, Germany
Soke Leif Hermansson, 10 dan hanshi karate & kobudo, shihan in Mugairyu iaido & Hachimanryu battojutsu, Sweden
Masters and Instructors:
Hanshi Tair Narimanov, 9 dan jujutsu, Sambo, Russia/Spain
Hanshi Magnus Cederblad, 8 dan jujitsu
Shihan Petri Tabell, 5 dan karate & kobudo, Sweden
PROGRAM
Saturday sessions
Session 1: 10:00-11.30
Session 2: 11.45-13:00
Lunch: 13:00-14:30
Session 3: 14:30-16:00
Session 4: 16:15-17:30
Dinner: 19:00
Sunday Sessions
Session 1: 10:00 -11.30
Session 2: 11.45-13:00
Lunch: 13:00-14:30
Session 3: 14:30-16:00
Place? We will train at the gymnasium Hackstahallen, close to the hotel and shopping centre in Åkersberga, 30 km north of Stockholm. Some training may also be at the Kaizenkan dojo
Entry fees: One session: 200 SEK/20 EUR; 7 sessions: 1300 SEK/130 EUR to be paid through bank transfer, cash or swish 123 090 53 07 (Kaizenkan) in advance. Please send your name and contact details at info@kaizenkan.se for registration.
For money transfers from abroad:
BIC: NDEASESS and IBAN: SE76 9500 0099 6026 0964 7553
Applications: No later 1st of March 2023 by e-mail to: info@kaizenkan.se
We need to know which sessions you will take part of, your name and grade in Martial Arts (if have), club or organization and country, as well as possible special dietary needs for the Saturday night dinner.
If you need more information, don´t hesitate to contact us at info@kaizenkan.se
PRACTICALITIES
Where to stay?
If you need a place to stay, you are welcome to stay at the dojo in your own sleeping bag for free if you wish.
We have also arranged a special rate at The Public Best Western hotel for a single or double room including
breakfast. Inform the staff when booking that you will come to the Kaizenkan event and you will get a 25 %
discount. www.publichotel.se, phone: +46 8 - 55 80 9000.
Logistics: Everything is within walking distance from the hotel; Hackstahallen where we train (200 m), the dojo, where part of the training is also held (300 m), all shops and Folkets Hus where we will have the dinner on the banquet floor at the top (50 m).
How to get there from the Stockholm Arlanda airport: By taxi to Åkersberga centre or from Stockholm city by car or light rail, the Roslagsbanan, no. 28 towards Österskär, which departs from Östra Station by metro station Tekniska Högskolan. Your stop: Åkersberga Station.
The dinner will take place on Saturday night at 7 PM and the cost is 490 SEK/49 EUR for adults, including beer or wine, and 350 SEK/35 EUR for a menu with non-alcoholic drinks. Pay for the dinner at same time as you pay the entry fee for the camp: cash, swish (123 090 53 07 (Kaizenkan)), or money transfer before the start of the training camp.
Equipment: Bring your training suit or Gi and/or Hakama and Bo, Sai, Tonfa and iaito with you, if you will train with them. We also have some Bo and Bokken you can use.
Fist time in Sweden?
Take some extra few days and do some sightseeing in our beautiful 'Venice of the North'! Explore Stockholm city, the Wasa Museum, the ABBA Museum, the Royal Castle and more.
We are happy to come with advice.
Do you like skiing?
Why not take an extra day in the slopes?
The closest winter sports area in the region goes under the name of Kungsberget, only two hours by car north of Stockholm. All equipment, ski passes etc are available for rent on-site for a fun day in the snow.
We wish you a warm welcome and hope to see you in March!